Start the day with a rich international breakfast!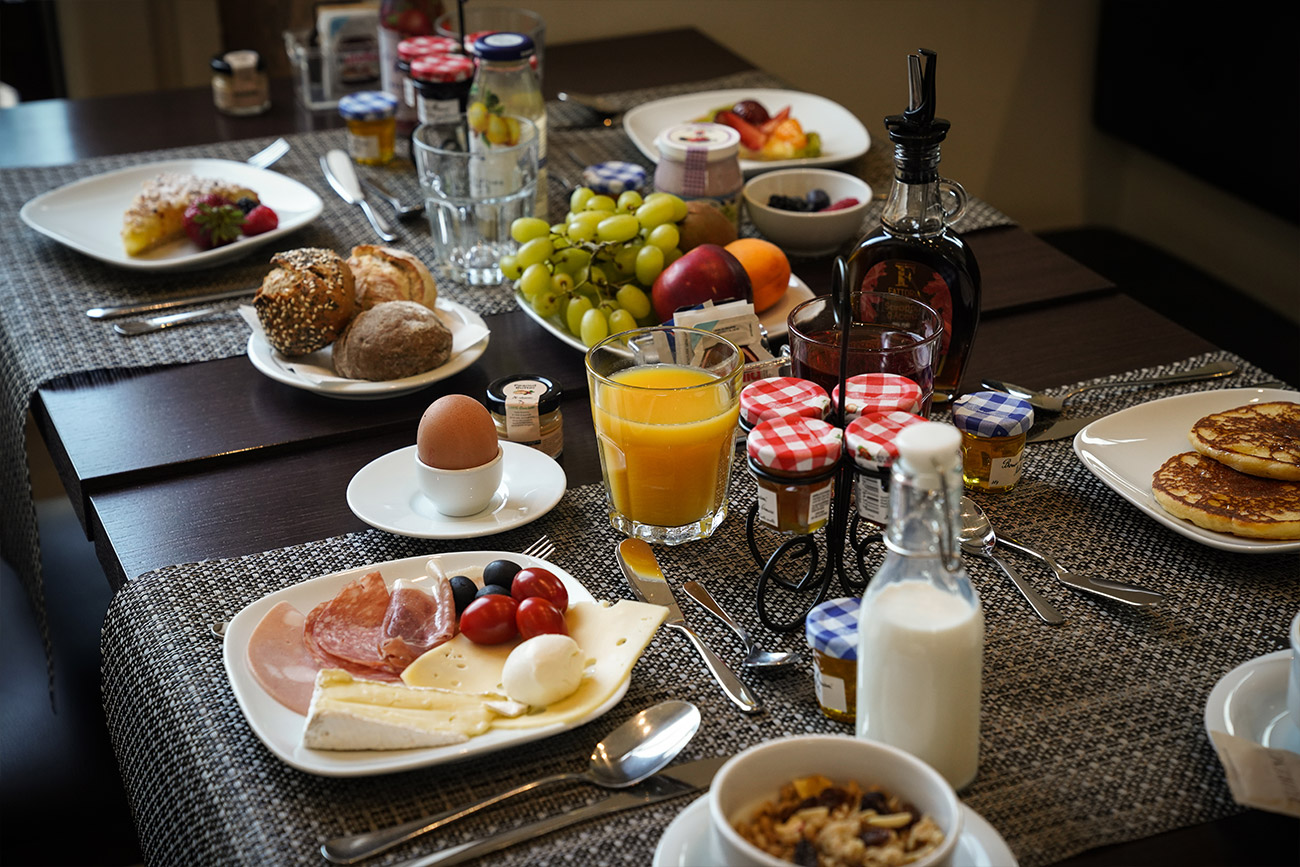 At 7Florence B&B in Florence who wakes up early meets a golden day! Every day for breakfast a special selection of delicacies is waiting to boost your energy and enthusiasm in one of the most beautiful cities of the world.
The breakfast at our 7Florence B&B in Florence is served in a bright breakfast room overlooking the stunning Santa Maria Novella Church. Whatever your preference, international breakfast, sweet or salty, the breakfast at 7Florence B&B will suit your taste.
At 7Florence B&B a sweet embrace is what you need to start your day. We entrust the preparations of our cakes and croissants with chocolate, marmalades and cream to a Florentine artisan pastry shop. We care about the quality and the freshness of our breakfast as well as the diversity of our menu like grandma's cake, fresh fruit or apple tart. If you are a light eater, white or fruit yoghurt is available in mono dose jars accompanied on the side by fresh fruit like strawberries, raspberries and blueberries, Bonne Mamman jams, honey and cereals. As the cherry on top you will find fruit juices, coffee and cappuccino as well as a selections of teas and for the ones with a sweet tooth hot chocolate and choco rice crispies.
If you are in search of something different and you like starting your day with a salty breakfast at 7Florence B&B, try our hard boiled eggs, selection of cheeses and cured meats complemented by four types of bread (white, wholegrain or with seads and toasted) or rice snacks. If on the other hand you are craving for something more traditional you must try our Italian trio: mozzarella, tomato and olives.
At 7Florence everybody is welcome, our sought after products will make you feel at home while experimenting with Italian delicacies. From fresh Florentine artisan pastries and Nutella to American pancakes and maple syrup (100% pure) or peanut butter, eggs, cured meats and seasonal fresh fruits. Nothing is left to chance as we strive to offer you the best of Italy.
Even in case of intolerances or vegan and vegetarian diets we will meet your needs by offering you regular, soy or rice milk.
Our Staff is always ready and at your disposal for any requests, we are multilingual and comprehensive for any individual need because at 7Florence B&B our guests are pampered from the very start of the day
CHOOSE THE ROOM
YOU PREFER!